Holiday Hullabaloo: Put Away the Swear Jar
Dear Friends,
I swore the mayhem of the holidays would not affect me. This year, above all, I was determined to stay in the magic of the season and let it slide. I am still a Happy Holidays kind of girl. But, I might be getting a "swear jar" from Santa.
One morning, after another 15-hour day of parenting my little angels that-would-not-go-to-bed-and-needed-extra-waters-and-would-not-give-me-privacy-while-I-either-went-to-the-bathroom-or-injected-my-nighttime-insulin… I kicked a cupboard off its hinges.That cupboard has been gone for two days. I know I'll be able to fix it…with the right type of wood glue, a new hinge and that screw-gun thingy…and maybe my best friend. But the amusing part is that my husband- who will immediately calculate the added expense we most certainly cannot afford- seems not to have noticed.
While others may see the gleaming pipe of the sink's underbelly, my husband- who it should be mentioned- works very grueling 11-hour days- hands me screws and asks, What do these go to? I just…here, give them to me.. And when he asked about the extra aprons I stored near the sink to cook brunch as a family.. I'll get them later. I think I lost them.
The truth is, I could tell him we're a cupboard down, if it weren't for the car seat incident two weeks ago… I am all for safety, but when you're about to lose a hand trying to unclasp one of the twelve belts to transfer the seat to another (working) car- I don't see the problem cutting that (expletive) free. A replacement might end up in my stocking.
On a separate occasion, I thought it would be nice, and a welcome break- to take my kiddos on a tour of the lights around our neighborhood close to bedtime (wink, wink). We live in a place with lots of holiday cheer- and I was told by my cousin we're included by default in some kind of decorating contest that people vote on at the neighborhood coffee house. Charming!
Not to my 5-year-old.
Once we stopped hearing the commentary from our youngest (Yes! One down…) My sweet firstborn spoke up through my own delighted exclaims, "Are we lost or are we just driving in a damn circle?" Well… we weren't lost…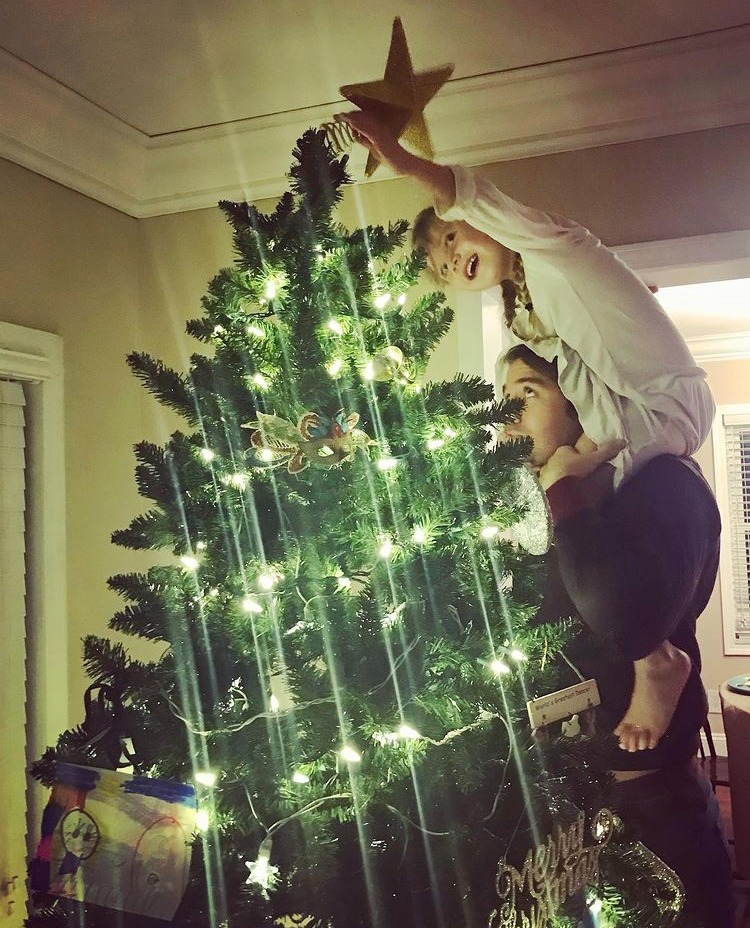 Moments before this shot, our daughter accidentally broke an arm off of the star. 

How about entertaining? Have any of you volunteered to host a gathering at your house? I sure did. But, I broke everyone in by setting a low bar over the course of several months. We're going to blow them away when they find extra toilet paper in the bathrooms and enough seats per person attending! I'm also cooking Polish recipes with my dad. (Dad, do not leave it up to my imagination!).
I could lament I may have already had the pierogies done and in the freezer if my blood sugar hadn't skyrocketed last Saturday just in time for the family party where we put them all together. But alas, I enjoy cooking no matter when or what the clock says. (Last night's Roast Chicken came out just shy of 8:13pm). 
It makes me so happy to think of generations passing down recipes like (Damnit! Where'd I put that list?)  …Like: Watergate Cake, Uncle Mac's Rice, Buschia's Sweet Bread, Kulacki, and Lazy Stuffed Cabbage. In my fantasy this Christmas we're all together, the spread is wonderful, and it's just the right amount of chaos and love to make everyone feel at home. And I'm honored to have it here. Because homes are essentially the energy you create. And you can't put a price tag on that gift to yourself or your children.
But here is something I'll "swear" to you. This season IS different. Not only will I have to pass up anything with sugar… (Thank you Type 1), but my gratitude for all of it- off the hinges and all- has only grown exponentially. So, I am toasting you (with Seedlip), a non-alcoholic drink our friends thoughtfully brought over, and possible sponsor of this blog; Za Twoje zdrowie! (To Your Health)
And good luck.
HUGS.
Ashley